Parsley or white beet, which can be found in the doughboy, is not only a herb, but medicinal plant, as well. Its leaf is used not only for flavoring our dishes, but tea also can be made from it. Its essential oils containing flavonoids have antiphlogistic effects, as well as appetitive effects. Its carotene, E and C vitamins have antioxidant effect; it is also used for elimination organ problems. It has high mineral content, rich in calcium - it should be consumed to prevent decalcification.

QUICK-FROZEN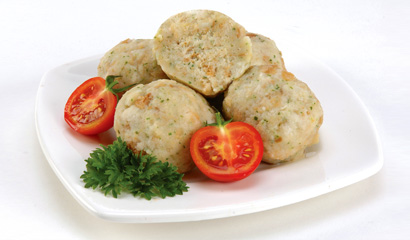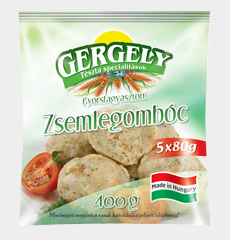 Game and Doughboy - a perfect match; just think about a deer stew or a gamy sauce served with Doughboy. This Doughboy can be used in simple soups, can be served to stews and different steaks.
The Doughboy consists of bread-roll cubes; these cubes, together with the wheat flour form the base of this dish. The wheat flour can be found in several dishes, so it is one of the mostly used raw materials. Carbo- hydrates are present in wheat flour in the form of starch, but you can also find B1 vitamin necessary for the proper metabolism. Its valuable proteins help our daily protein intake, helping cell building and regeneration.
Average nutritive value per 100 g
| Component | Amount |
| --- | --- |
| Energy | 1167 kJ / 278 Kcal |
| Protein | 7,4 g |
| Carbohydrate | 37,7 g |
| Fat | 10,0 g |
Packets
| Home | Gastronomic | Loose |
| --- | --- | --- |
| 20 x 400 g | 4 x 2,5 kg | 1/10 kg |