Carrot, to the contrary of other vegetables, is more nutritive if cooked. Because of the thick cell walls of carrot the human body can utilize only 25 % of the carotene content of the raw carrot. If cooked, the cell walls get damaged, so the carotene becomes available for the human body. If fat, which is necessary for absorption, is present in the meal, more than half of the carotene is utilized.

QUICK-FROZEN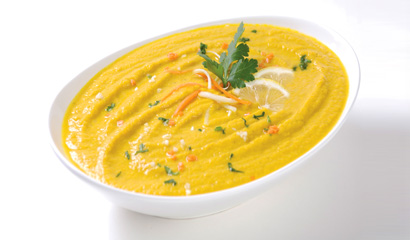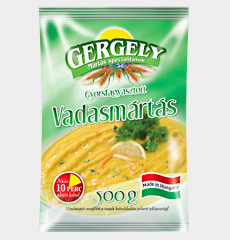 The uniqueness of this specialty is that you can feel the sweet and salty flavors at the same time. The wild boar and deer steak is a favorite dish in the Hungarian cuisine, which is dressed with gamy sauce and bread bites. For our mothers it took hours to prepare this dish. But now you can get this sauce simply with heating it up.
Nice color of the Gamy sauce is provided by the carrot; the carotene which is an anti- oxidant. It has high C vitamin content, which helps our immune system to fight against different diseases. Carrot contains the most calcium amongst the vegetables - that is why kids are encouraged to eat carrot -, so with eating carrot we can protect our bones. It is rich in fibers, it decreases the cholesterol and glucose absorption and helps metabolism.
Average nutritive value per 100 g
| Component | Amount |
| --- | --- |
| Energy | 520 kJ /124 Kcal |
| Protein | 1,1 g |
| Carbohydrate | 7,6 g |
| Fat | 9,6 g |
Packets
| Home | Gastronomic | Loose |
| --- | --- | --- |
| 20 x 500 g | none | none |