There are two types of fibers: water soluble and insoluble. The water soluble fibers have their effect mainly in the upper bowel: they prevent the glucose (blood sugar) and cholesterol absorption - thereby preventing the development of high blood sugar and cholesterol. The insoluble fibers swell in the lower bowel - with sufficient liquid intake - thus promoting regular bowel movements, as well as the establishment of the intestinal flora balance.

QUICK-FROZEN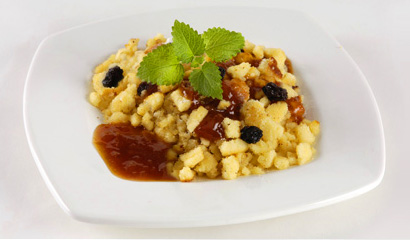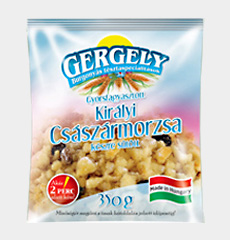 The magic in our grandmothers' food is simplicity, high energy level and palatability, what seemed to be reflected in their grandchildren smile. Now this can be on your table just in minutes from the freezer with a simple heating.
Raisin, which can be found in the Semolina pudding is rich in fibers, together with sufficient amount of liquid it helps metabolism, keeps the digestive system healthy and the "flown" raisin creates the feeling of surfeit, preventing over- eating. As well as the other dried fruits, it has high potassium content which is vital for the optimal blood pressure and for keeping the acid-base balance.
Thin milk powder used for the Semolina pudding preserves all the important elements while it has low fat content, so it protects our heart. If no extra fat is used at heating up the Semolina pudding, we can contribute to the low fat intake.
We can eat fresh fruit to Semolina pudding, but we can choose compote or jam from the store room. All of these can make our diet richer with the micro elements of the fruits (vitamins, minerals and trace elements). Drink a glass of milk which is enough for the protein and calcium intake, which is necessary for building the bones.
Average nutritive value per 100 g
| Component | Amount |
| --- | --- |
| Energy | 1233 kJ / 292 Kcall |
| Protein | 8,6 g |
| Carbohydrate | 51,8 g |
| Fat | 5,6 g |
Packets
| Home | Gastronomic | Loose |
| --- | --- | --- |
| 16 x 350 g | 4 x 2,5 kg | 1/10 kg |